Back in February when we unveiled our brand new website, we mentioned that we were working on a new resource to compare commutes from West Virginia's Eastern Panhandle to Virginia cities, major airports and Washington, DC.
Well, the wait is over!
Easily Compare Commutes from WV to the DC Area
Many Eastern Panhandle residents and home buyers choose to live in communities like Charles Town, Shepherdstown and Harpers Ferry because of the easy access to public transit and top employers.
That's why we've created this commute comparison quick guide: to help you find your new home quickly and easily!
Here's how you can use this resource to choose your next home in WV's Eastern Panhandle.
1. Choose Your Commuting Destination
Already know where you need to go? Visit our commuting quick guide and choose from one of eight destinations:
Loudoun County, VA — includes Leesburg, Ashburn and Dulles
Fairfax County, VA — includes Reston and Chantilly
Frederick County, MD — includes Frederick and the nearby community of Winchester, VA
Montgomery County, MD — includes Germantown and Rockville
Washington County, MD — includes Hagerstown
Warren County, VA — includes Front Royal
Washington, DC
Major Airports — includes IAD, DCA, BWI and HGR
2. Find Commute Distances from WV Communities
Once you've picked where you want to commute to, you'll see a list of distances between WV's Eastern Panhandle communities and cities or airports in the commuting destination you chose.
If you're looking at our commuting quick guide on a laptop or desktop computer, your screen will look like this:
If you're looking at our commuting quick guide a mobile device, such as a smartphone or tablet, your screen will look like this:
3. Choose a WV Community to Find Homes for Sale
WV's Eastern Panhandle is comprised of dozens of cities and towns. After you've decided which communities offer your ideal commute, you can check out our local area resources to find additional information, homes for sale and recent property sales.
Want to see what kind of information we offer about communities in the Eastern Panhandle? Choose a town below to find a list of local amenities, available homes for sale and featured neighborhoods.
Let's Make Your Relocation Even Easier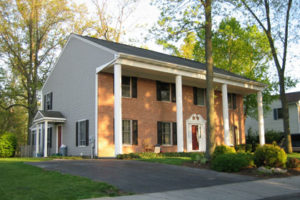 Our dedicated real estate professionals are natives of WV's Eastern Panhandle, so we can provide you with all of the local information you need.
Explore our relocation services to learn what we offer our clients, or ask us for a personalized relocation guide. We're here to help you find the home of your dreams, all while saving you time and money.